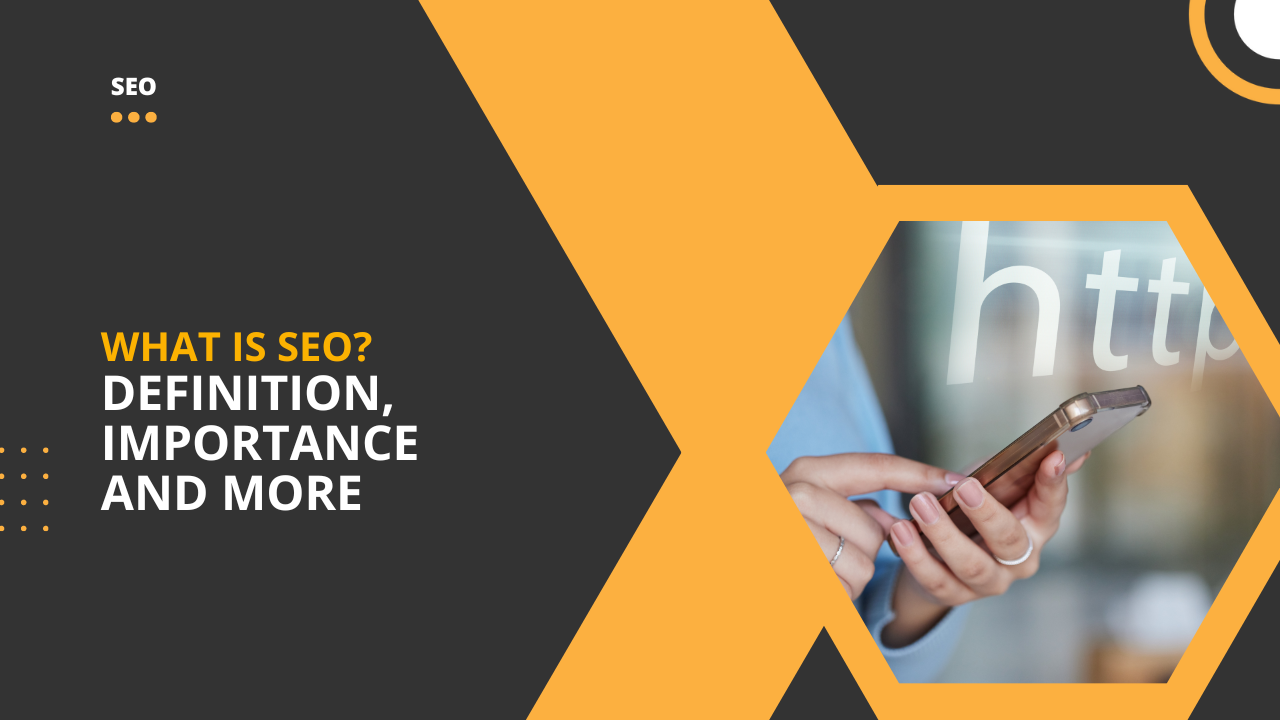 What is SEO: Definition, Importance and More
If you've been wondering why your website isn't generating as much business as you'd like, then it's possible that you need to focus on SEO. Most entrepreneurs don't fully grasp SEO and how it can boost their site ranking. Read on to discover the basics of starting with SEO and learn more why it's so important to have if you're looking to get more customers!
Definition of SEO
Search engine optimization (SEO) is a process of optimizing websites, web content and keywords to ensure that a website appears in the highest possible position in search engine results pages. By improving the page ranking, SEO helps businesses to increase traffic to their website and ultimately grow their businesses by converting more prospects into customers.
Importance of SEO
In today's digital age, SEO is essential for any business looking to maximize online visibility, reach new customers and increase sales through online channels. It's one of the most effective ways to get your website discovered and boost customer engagement. By leveraging the right tools and strategies, you can drastically improve your rankings on search engine results pages, making sure that your target customers are finding and engaging with your business online easily.
SEO helps businesses demonstrate authority within their industry or topic area by creating high-quality content optimized for relevant keywords which drives potential customers from other sites directly back to yours. Therefore it is important that businesses invest time in researching which topics generate most engagements from people looking for products or services they can offer – understanding customer behaviour is key when deciding what content works best with audiences across different platforms. Ultimately, this is one of the most efficient ways of increasing leads qualified leads via organic traffic – all businesses should prioritize setting up an effective SEO strategy if they want longterm success online.
There's no guarantee that users who land on the webpage or through paid advertisements will actually purchase something or subscribe for offers or services. However by optimizing websites with strong keyword research done beforehand along with other tactics such as link building and content optimization – businesses are certainly well on their way towards successfully gaining paid traffic while simultaneously driving organic sessions when it comes to SEO strategies that can last long term due to ongoing maintenance as updates occur over time within the search engine algorithms utilization which constantly be changed periodically accordingly.
How Search Engines Works
First, website owners need to know how search engines work in order to understand how they can be optimized for better search engine performance. Generally speaking, when users query specific words or phrases into the search bar on a Search Engine such as Google or Bing, they rapidly produce a list of websites related to those terms; this list usually contains ten so called "organic" free listings from most authoritative webpages which best answer that query.
That's why during our SEO work, we go through a list of sites, evaluating them based on their content, link structure, and related keywords. Then, we edit the content to be optimized for these specific keywords. Webpages should have info about products/services and appropriate headers/links, so search engine robots can index them, we do all for you with our expert team.  We apply the proper use of on-page optimized content and off-page optimization techniques such as link building to ensure that SERP rankings are improved.
Search engines use complex algorithms to rank websites based on factors such as keywords, quality content, and popularity. Algorithms differ between search engines, and they change often. To keep your website well-ranked, you should be up-to-date with SEO algorithm changes. 
Monitor webmaster tools such as Google Analytics or Bing Webmaster Tools to gain valuable insights into your website's performance and visibility. If you find yourself dissatisfied with the results, please don't hesitate to contact us.
Importance of Quality Content
Quality content is the foundation of an effective SEO strategy. This content must be tailored to the target audience and build trust in the brand. It should also be optimized for visitor searches.
Quality content requires more than just writing articles. The page should be correctly optimized, with relevant keywords and phrases. It should also be formatted well, so it's readable on desktop and mobile devices. Quality content should be informative, creative, and original. Sources should be provided and linked to properly.
Organizing related information is important for SEO purposes. This includes:
Meta tags
Titles
Anchor text
Images
SEO Components
Although there are many aspects to consider when optimizing your website for better SERP rankings, some easy starting points for good website optimization is ensuring something known as "on-page" elements are being taken into consideration – things like page titles, meta descriptions and keyword placement – followed by the practice of off-page activities such as link building with other relevant websites across the web that links back pointing towards yours'. As long as both On-Page and Off-Page parameters are met sufficiently then your website should rank reasonably well when searched; albeit continuous SEO efforts need be made at all times in order to keep your rank organically high. It takes great deal of patience and analysis skills but if done right it could mean extraordinary success!
On-page Optimization
On-page optimization refers to the practice of optimizing individual web pages to rank higher and earn more relevant traffic from search engines. On-page SEO is used in conjunction with off-page SEO, which focuses on link building and other external signals.
To optimize a web page for search engines, look at the Content Structure, Meta Tags, Headings, URLs and Internal Linking. By improving these elements you can help your page rank higher on SERPs (search engine result pages).
Content Structure – Content structure is key when optimizing the visibility of a web page. Relevant keywords should be placed strategically within content in order to draw maximum attention from both readers and search engine crawlers. The copy should be well organized and contain high-value information that will encourage users to stay on the page for longer periods.
Meta tags – Meta information such as titles, descriptions, and keywords provide an opportunity for site owners to include targeted words related to their sites that can leverage SEO results. Meta tags also provide search engine crawlers with additional information about the relevance of a specific page's content in relation to user queries.
Headings – Headings are another effective area for adding keyword phrases or variations that help define important areas of content within a webpage. They are also used by search engine crawlers when determining the relevance of a webpage's content compared with user queries.
URLs – URLs play an important part in helping ready visitors locate requested pages quickly, as well as letting search engine spiders recognize website structure better and more easily crawl through different pages without any navigational issues. Additionally, descriptive URLs containing important keywords help attract users towards a specific website or webpage while providing better visibility among SERPs (search engine result pages).
Internal linking – By creating links between relevant internal pages on your website you can reinforce webpages' topics as well as demonstrate how these topics are related for customers looking for further details about one topic within multiple internal pages of your site or blog post series. Thoroughly linking related articles internally offers keyword support on multiple levels by using those same words across different aspects of optimization efforts: URL strings (anchor texts), meta tags (keywords) and headings throughout multiple articles you link internally together demonstrate solid proof of concept regarding common subjects each article covers while providing better overall visibility among Search Engine Result Pages (SERPs).
Off-page Optimization
Off-page optimization, also known as link building, is a process of generating backlinks to your main website with the intention of enhancing its ranking in search engine pages. Although off-page SEO is a critical aspect of search engine optimization, it's important not to forget about other SEO techniques when performing off-page SEO activities.
Backlinks are links that lead back to your website from external sources. This signals to search engines that your website is useful, and should be ranked higher on SERPs. By linking content on other websites, you can widen your reach and drive more leads to your site from external sources.
The purpose of off-page optimization is to create backlinks from authoritative and quality websites and prioritize them over lesser ones. This is because Google relies heavily on link signals from these authoritative websites as an indication that your website is credible and worthy of good rankings on its SERPs (Search Engine Results Pages). Backlinks serve as an indicator for the search engine that your website has something valuable to share with visitors. Also, having strong relationships with other sites can get mutual benefits such as organic referrals or partnerships in content marketing. Building quality links ethically over time will help increase trustworthiness with prospects.
Off-Page search engine optimization involves both link building and manipulating social signals. Link building entails creating external links for your website from websites that are more popular or established than yours—for example, getting links from high domain authority sites by getting citations, guest blogging etcetera. Social Signals on the other hand involves influencing online user activity including comments, shares, and likes across major social networking sites such as Facebook or Twitter so as to get more brand exposure and visibility while at the same time improving organic rankings.
Link building should focus mainly on gaining higher quality inbound links rather than quantity. A well implemented plan should aim at earning natural but quality backlinks which help boost trustworthiness & authority of an individual's content among search engines which ultimately leads to improved rankings & success with organic traffic searches.
Technical Optimization
Optimizing websites for search engines is an important aspect of website design and development. Technical plugins, code snippets and other elements help the website communicate effectively with search engine bots. The most important elements of technical optimization are website speed, mobile optimization, server location, security, user experience and internal linking.
The goal is to improve visibility in organic (non-paid) search engine results by improving overall website architecture, coding markup , user experience (UX), usability ratings, mobile relevance, page loading speed and other factors related to getting higher ranking on Google's SERP for certain phrases or words related to a product or service featured on a company's website.
Website speed is one of the cornerstones of technical optimization and plays an integral role in how webpages rank in search engine results pages (SERPs). Site speed should also be optimized for mobile devices, as more than half of all web searches are conducted upon smartphones or tablets. Google prefers fast-loading sites, so compressing images and reducing redirects are important. Caching also helps minimize server latency.
Server location is important too. If the server is close to your target audience, pages will load more quickly, improving SERP rankings.
Security should not be ignored either, as it is important for sites that comprise complex content management systems and sensitive customer data to be secure from external threats. Troubleshooting errors can help find potential problems that may impede ranking performance or reduce overall user experience post-launch.
User experience matters too: Site maps and integrated site search help users find resources easily, which improves their experience.
Internal linking helps algorithms understand which pages are important, which boosts their rankings. All these technical considerations can boost organic traffic by improving SERP rankings!
Overall, technical optimization is a multi-faceted process that requires large amounts of knowledge and experience to ensure successful implementation. This process helps when trying to build a strong relationship between a web page's content and SERP ranking algorithm. With help from experienced professionals who specialize in this field, any website can make remarkable improvements in its ranking potential through effective technical optimization techniques.
Keyword Research and Analysis
Keyword research and analysis are an important part of a successful SEO strategy. To rank highly in searches, you need to use the correct keywords all over your website. Whether you want to improve existing content or create new content tailored to your users, keyword research is essential.
The first step is to identify topics that are relevant to your target audience. Think about geographic terms, industry words, and colloquial phrases that could be keywords. Also, look for variations of these words.
After making a list of possible keywords, use SEO tools to analyze their relevance and popularity. There are many free and paid resources, like Google Trends and Moz's Keyword Explorer.
Knowing which words will appeal to your target users helps you understand their needs and how they view themselves or their industry. You can use this data to create effective SEO campaigns with language that real people use when searching online. This will lead them back to your website with more precision!
The importance of keywords goes beyond just finding the right terms; understand what type of long-tail keyword phrases your users use when searching the web for a solution. Long-tail keywords give you access to high ranking positions that would otherwise be difficult to rank in competitive markets.
Utilizing competitor analysis can offer great insight into how you should structure your keyword research, as well as giving you ideas on what words are popular in your industry.
Effective keyword research ensures that when people look up solutions related to services or products you provide, they will land on one of your web pages rather than competitor pages – significantly increasing the chances of driving traffic to website as well as gaining more leads or sales.
Local SEO
Local SEO is an important part of SEO. It focuses on making pages appear more prominently on localized searches. Businesses providing local services or targeting a local customer base should use it. Local SEO targets geographic keywords related to their service. Content like reviews, testimonials and photos help businesses stand out from competitors and attract potential customers. It also helps customers find related products and services in their area.
International SEO is different. It makes sure websites are accessible in countries all over the world. It involves translating pages into multiple languages, customizing images, prices and legal regulations. Following International SEO guidelines is crucial for potential customers overseas to find a business easily. If both local and international SEO strategies are used correctly, businesses can improve their ranking in organic search results and get more organic search traffic locally and globally.
Analysis and Optimization
Search engine optimization (SEO) is an ongoing process that requires continuous analysis, troubleshooting and optimization. This is usually done by using tracking systems and monitoring tools to measure traffic, page views, clicks and conversions. The key aspects of search engine optimization are improving website visibility in search engine results pages (SERP), increasing the quantity and quality of organic incoming traffic, and understanding user intent behind search queries.
Google analytics help track SEO performances while analyzing factors such as organic site visits via different browsers, screen resolutions and user devices. SEO experts typically utilize browser extensions like MozBar to inspect URLs for the presence of common SEO mistakes such as:
301 redirects flags;
broken links;
page speed;
nofollow links;
incorrect canonicals;
sitemaps visibility.
Once problem areas have been identified it's time move on to implementing strategies that can improve them like certain tasks which involve optimizing content across all website pages through elements such as:
headlines Formats/H1-H6 Tags Values;
removing Meta descriptions with poor click-through rates (CTR);
improving Meta title Format/Length Values.
Finally reporting result changes versus initial indicators can be proof of successful analysis & optimization efforts associated with any given domain or webpage URL & meta details change completed within an online repository dedicated for such tracking & reporting processes tailored for each project's work timeline managed by a given provider undergoes a successful end result.
Common SEO Mistakes to Avoid
Algorithms are always changing, so it's a challenge to keep up. But many business owners don't have time or know-how to learn SEO. This leads to errors that hurt their marketing.
Transparency is important. Black hat tactics like keyword stuffing or link schemes will get you in trouble with search engines. Other mistakes include: no target keywords, no meta descriptions or page titles, not updating content, and relying too much on backlinks.
Stay informed on search engine guidelines and strategies by signing up for our e-mail list. This will ensure that you receive regular updates and expert advice. If you require assistance, don't hesitate to contact us. Understanding what strategies work and what doesn't will greatly contribute to your success.
Conclusion
In conclusion, search engine optimization (SEO) can be a valuable tool for businesses that want to stand out in the online marketplace. SEO is an important part of digital marketing that can help you get found by potential customers, increase website traffic and boost your online presence and visibility.
Although it may look complicated for people who don't have experience with SEO, it is not as difficult or complex as one may think; it just requires up-to-date information and thorough research. While it is possible to carry out many processes yourself when focusing on SEO; seeking professional assistance is often recommended.
What is SEO?
SEO stands for Search Engine Optimization, it is a process of optimizing your website for it to appear in the top search engine results when a relevant query is made.
What are the benefits of SEO?
SEO helps to increase website traffic, improve visibility of your website, and increase brand awareness.
How do I optimize my website for SEO?
To optimize your website for SEO, you should create content that is relevant to your target audience, use keywords in your content, use backlinks to link other websites, and make sure your website is mobile friendly.