What is Rytr me
Rytr me is an AI writing tool. It uses NLP and ML algorithms to analyse and improve text. The tool also offers punctuation, grammar and spelling suggestions. It can even offer real-time feedback.
This tool helps users become better writers by providing personalized guidance. It goes beyond spell check and provides insights into grammar, tone and more. Plus, natural language processing technology can give context-aware advice.
Rytr me is different because it learns from your writing style and suggests even more ways to improve. You can also set preferences for the level of help and language(s). It's suitable for native English speakers and those learning multiple languages.
Overall, Rytr me is an innovative AI tool that helps you create high-quality content quickly!
Features of Rytr
Rytr is equipped with cutting-edge AI copywriting features, allowing you to produce limitless characters of quality content in seconds for any job or task.
The platform has some superior project management functions to streamline the writing process and get the most out of each piece of content you make. With Rytr, you can not only create articles but also video descriptions and meta descriptions to increase traffic to your website. It has all the features an up-and-coming writer needs to quickly compose high-converting copies while saving time.
Plus, Rytr has its own plagiarism checker that operates on their own server infrastructure – much faster than doing the checks yourself! The AI copywriting tools of Rytr automatically generate catchy headlines and ideas for stories based on user interests and popular topics. You can even use the auto-generate feature on product descriptions or team billing reports in a pop-up style, so users don't have to go through long-form content every time they need info from the document.
Finally, Rytr's quality assurance system polishes each piece of material into its best form before it is delivered, so users always produce an original piece of high quality content every time they use Rytr's tools and services!
Pros of Rytr
Chat support is also available to help with any trouble.
The platform is perfect for newbies. It offers great value with its clean interface and easy-to-use tools.
Rytr integrates with other platforms such as Google Docs, Slack, and Dropbox.
This unique platform allows people from all over the world to collaborate seamlessly.
Cons of Rytr
One con is the cost. There is a free version but this only enables one file at a time and doesn't offer much. Plus, features like outlining tools, collaboration and integration with other apps aren't included. This could be difficult for those with writer's block or managing multiple projects.
Rytr doesn't allow users to create different variants of a project or give feedback on documents – unless they purchase the Pro version, which allows three variants per document.
At some point it creates similar contents and for the advanced users, sometimes it is not enough.
There are Rytr alternatives especially after the ChatGBT with similar features! Test out different ones before buying, as each will work differently with every user's style and preferences. If you are new on the writing area, Rytr is the easiest one to use.
Pricing and Plans
Rytr me has plans for everyone! The Free Plan is perfect for individuals and small teams. It gives you unlimited shared folders, 2GB of personal storage, document versioning, team billing integration and 24/7 support.
For those who want more, Rytr me offers two additional plans – Saver and Unlimited Plans. They come with increased personal storage, centralised user management, project templates, custom branding and more. Go for the annual plan to save a lot! You can easily upgrade to a more comprehensive plan without disruption.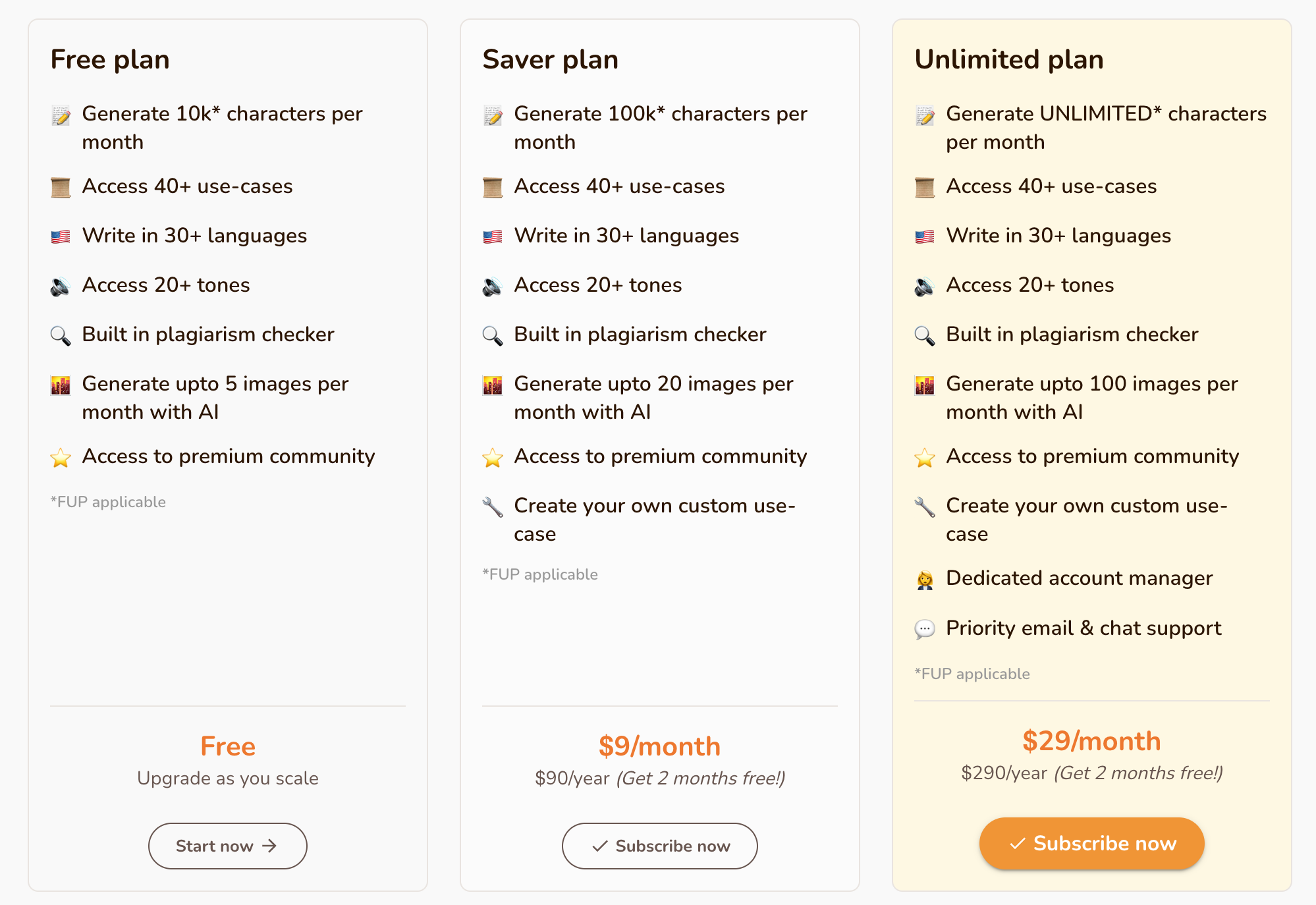 User Reviews and Feedback
Rytr Me team works hard for their customers. They want to make sure customers have great experience. They ask customers to leave feedback. This helps new customers decide if they can trust them.
You can check out the reviews on Trustpilot, G2 and Appsumo.
Conclusion
We loved to used Rytr me especially in the beginning of our content journey. We still suggest for the new writers. Its user interface is easy to use and there is a Submit Button, so no tech know-how is needed. It also keeps track of 2 million sources to provide accurate results. With Rytr me, you won't need to worry about finding sources, researching topics, or editing for accuracy. It integrates with Chrome and Firefox, and has tutorial videos to expand your knowledge.
Frequently Asked Questions
Q: How does Rytr me work?
A: Rytr me works by allowing customers to post reviews of businesses they have visited. These reviews are then shared with other customers who can use them to make more informed purchasing decisions.
Q: Is Rytr me secure?
A: Yes, Rytr me is a secure platform that is designed to protect customer data and reviews. All reviews are verified before they are posted and all customer data is kept secure.