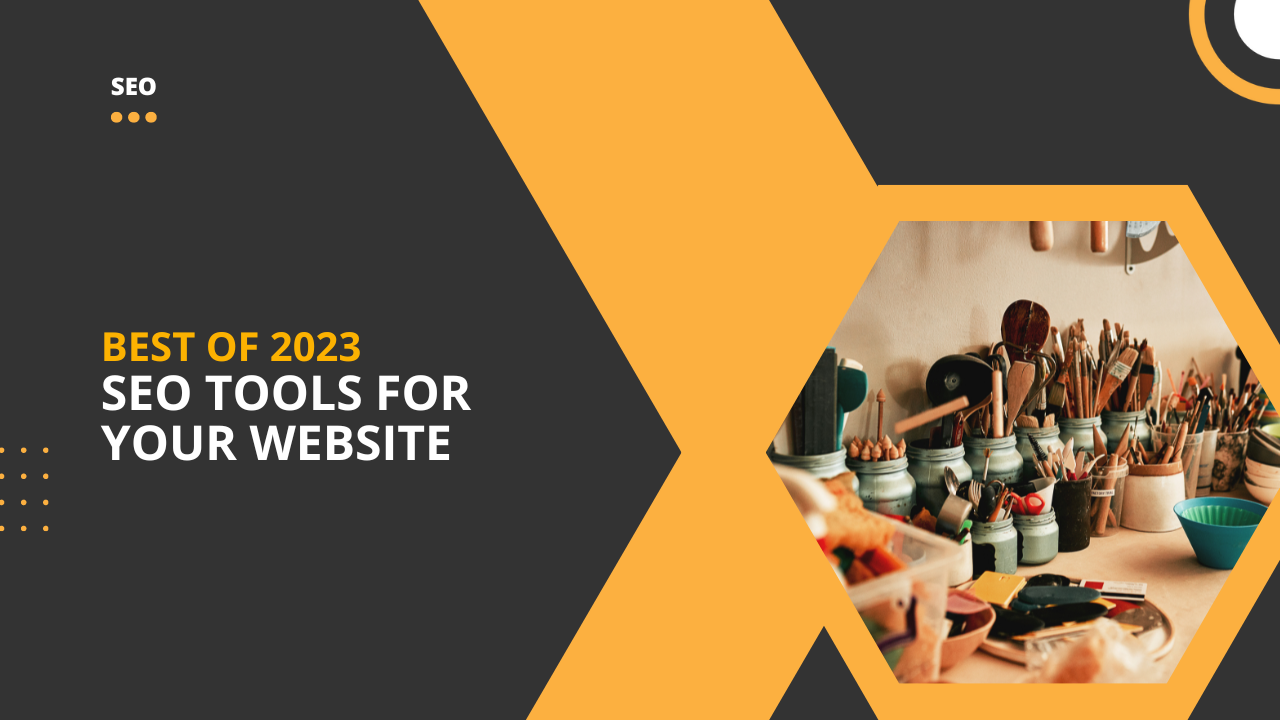 SEO Tools for Your Website in 2023 
Struggling to rank higher? SEO tools can help! No need to be an SEO expert. Increase visibility today! Let's check out the newest SEO tools to boost your online presence. Get that website traffic and organic rankings soaring!
Link Redirect Trace
Link redirect trace is an important SEO tool. It finds mistakes with web-based links, such as broken links and wrong URL structures. Plus, it helps spot issues with search engine indexing and crawling.
The trace rechecks each link on a website. After that, it reports any technical errors. It also makes sure search engines properly index URLs, links work correctly and users don't end up at blank pages or wrong URLs.
Accurate link redirects are key for strong SEO. So, review website links often and make updates. The right tools can help you make sure your websites rank higher on search engines like Google and Bing by detecting and fixing link redirect problems.
Google Analytics
Google Analytics is key for SEO. It measures search traffic, website info and organic search success. You can track monthly search volume, rankings and organic click-throughs. It helps you track progress of SEO against keywords over time.
Data Studio from Google helps you see bounce rate, organic visits and keyword performance. This lets you know what areas of your site are doing well and which need improvement.
Google Analytics simplifies SEO metrics in one place. This tool helps keep businesses ahead of industry changes and track progress against objectives. It gives deep insights into online presence and helps businesses update strategies for long-term success.
AnswerThePublic
AnswerThePublic is one of the best free SEO tools. It helps you get keyword ideas and suggestions. Just enter a few words into their query box. AnswerThePublic gives you an alphabetical list and a visual map. You can use this information to create content, link building, and localized search efforts.
AnswerThePublic finds questions people are asking about your topic. This helps you find high value keywords that you might have missed otherwise. You can use these insights to plan your content strategy. You can also spot trends before they start trending.
AnswerThePublic has partnered with Majestic SEO. With this, you can review backlinks for any URL. It includes referring domains, internal and external links, and more. This helps you build link building campaigns.
Google Keyword Planner
Google Keyword Planner is an amazing tool for those wanting to increase their website's visibility. It provides access to keyword research, helping optimize content for higher ranking in SERPs.
This tool offers data to help choose the best keyword research tools, see which keywords are most popular and calculate keyword difficulty scores. All this info can inform SEO decisions and help rank higher in SERPs.
It interfaces with Google Ads, allowing users to add keywords for creating ad campaigns. There are also more advanced features for complex analytics such as competitive analysis of certain markets or extra info about certain terms.
Even without running Ads campaigns, Google Keyword Planner offers data to improve SEO strategy and boost organic rankings on major search engines. With keyword research as its main focus, it gives ample insights into competitors' keyword targeting and how to target for maximum impact – perfect for any SEO campaign.
SEMRush
SEMRush is a widely-used, paid SEO tool. It offers insights into organic search performance. It covers technical and content aspects of SEO, so users can understand how their websites appear in SERPs.
With SEMRush, users can research keywords, audit and review on-page optimization, and analyze backlinks. They can also check out competitor analysis by looking at domain and page authority.
SERP analysis with SEMRush is a great way to see what content ranks best. This helps users gain traffic, by ranking higher in SERPs. Analyzing backlinks lets SEO professionals compare competitors. This helps them optimize their sites, build links, and find other link opportunities. SEMRush provides data metrics from other ranked sites, which makes optimization techniques easier and more effective.
Ahrefs
Ahrefs is a popular SEO tool. It helps boost website search engine rankings. It has features to analyze, monitor and structure content. It gives backlink checkers, referring domains and domain authority metrics. It helps understand how well the website stands in the search landscape.
Link building is part of Ahrefs' scope. It has tools like Link Opportunities (Google), Content Explorer (Search Engine), SERP Checker (Google & Bing), Majestic Facts box, Domain Comparison tool, Link Intersect analysis and more.
Ahrefs' organic keyword research provides intel on terms for content optimization. It also has tools for technical SEO. This helps audit websites for issues like slow loading times or incorrect redirects.
Ahrefs is popular for streamlining SEO processes. It gives insights into link building campaigns or audits website issues. It allows access to powerful data capabilities. This helps marketers keep campaigns on track, and avoid pitfalls.
SurferSEO
SurferSEO is a top-notch SEO tool. It helps website owners assess their on-page SEO. It gives insights on speed, URL structure, headline tags, content length, keyword density, image optimization, and outbound link structure.
Comparing competitor sites is easy with it. This helps you rank better. It has a scoring system to explain where you stand and what needs doing. The real-time SERP inspector tool updates scores so you can monitor improvements in real-time.
If you want a simple way to monitor page SEO performance and optimize quickly, SurferSEO is the answer!
Bing Webmaster Tools
Bing Webmaster Tools is a free SEO aid. It helps optimize a website's performance on major search engines. Analyze technical SEO issues, track keyword rankings, and gain insights into the traffic your site is getting. This web-based platform provides extensive info on all aspects of your website's SEO data. Easy-to-read visuals, analytics overviews, and individual page reports.
Data from Bing Webmaster Tools can be divided into three categories:
Searcher Statistics shows detailed metrics of how users interact with your website.
Crawl Errors & Issues displays technical issues about crawling and indexing.
SEO Reports & Suggestions offers optimization advice. Fix any issues to get higher rankings for your pages.
Bing Webmaster Tools can help optimize your website for better visibility in search engine results pages (SERPs). Gives insights into how people discover your site via organic or paid search. Plus, what content generates the most engagement and conversions. LinkManager is an additional tool for monitoring and protecting against malicious links that could affect your rankings.
Whether you're a professional web designer or new to the industry, this tool has invaluable info to improve your website's performance across different search engines.
Google Search Console
Google Search Console (GSC) is a must-have SEO tool for optimizing website visibility, organic traffic, and improving technical SEO. It lets webmasters and digital marketers monitor organic search performance data and spot errors that may affect traffic or user experience. GSC provides reports on website performance in SERPs, plus advice on optimizing content to rank higher. Also, people can submit XML sitemaps to Google to make pages easier to find.
GSC is great for anyone wanting to check their website's performance and track progress. Reports give insights on areas needing improvement. Page analysis tools show broken links and page load times.
Overall, GSC offers opportunities to expand reach by uncovering optimization opportunities such as keyword rankings, content optimization tips, and internal linking suggestions. This useful tool helps businesses quickly reach maximum organic exposure in search engine results pages.
Moz Pro
Moz Pro is a selection of free SEO tools which can revamp your SEO plan. Whether you are new to SEO or are an expert, Moz Pro has the perfect set of tools and metrics to audit your SEO accomplishment, review your backlinks, recognize keyword chances, and enhance your website for internet search engine presence.
Moz Pro permits you to review the domain authority of diverse websites, so you can gain knowledge of how they fare compared to your competitors. This is advantageous if you want to know how other websites are doing in searches related to yours. It also helps detect ideal ways that apply to sites in similar categories.
Moreover, the Site Crawl tool will investigate any website for technical issues such as broken links or pages which are not optimized accurately. These issues will not interfere with user experience and search engine rankings. Furthermore, users have access to data-based advice which can help them identify which tactics work best for their website and marketing objectives.
By making use of Moz Pro as part of their SEO strategy, website owners can make wise decisions on where to allocate their resources such as keywords research and optimization tactics for better performance in organic search results pages.
Yoast SEO
Yoast SEO is an awesome tool to help users improve their website content for search engine queries. It offers automated solutions like tools for on-page SEO, technical SEO, XML sitemap creation, and meta tags/descriptions optimization. Yoast makes it easy to detect areas of your website that need work and suggests how to make the most of each element.
You can use Yoast to track page performance, such as keyword ranking and page speed scores. It also spots issues like duplicate content, missing meta descriptions, page errors, etc. with one click.
You can also customize each page per target keywords using Yoast SEO plugin. Plus, it supports Open Graph and Twitter Cards, so you can make sure your webpages are shared properly on social media networks. Yoast also provides an XML Sitemap for comprehensive indexing by search engines like Google or Bing, which is important for a successful online presence today.
Screaming Frog
The Screaming Frog SEO Spider is a must-have for technical SEO. Download it in just a few minutes and let it do the work for you! It will crawl through pages on your site, showing titles, meta descriptions, images without ALT tags, and other elements needed for good search engine rankings.
It also checks for broken or redirected links, helping you avoid customer frustration. Plus, it helps you create XML sitemaps for website usability.
Overall, the Screaming Frog SEO Spider helps you manage technical SEO quickly and accurately. Don't forget to include it in your optimization plan – it will save you time and help you avoid costly mistakes.
Serpstat
Serpstat is an amazing SEO tool. It enables webmasters and businesses to get the most out of their SEO endeavours. It provides up-to-date data and SERP analysis. You can use it for keyword research, SERP analysis, competitive analysis and more. It is essential for any successful SEO strategy. You can create lists of relevant keywords and combine them with other data. This lets you produce targeted campaigns based on the right keywords.
Serpstat also helps you with on-page SEO optimization. You can assess titles, meta descriptions and find link building opportunities. It is perfect for those wanting to increase their website's visibility on search engines. Serpstat provides everything you need for effective keyword research. This means you can create content strategies that drive traffic and organic growth.
Majestic
Majestic is an SEO tool created to measure the amount and quality of backlinks leading to a domain. It offers users advanced backlink checkers and metrics like referring domains, page authority, trust flow, citation flow, and domain authority. These can be used to plan link building and evaluate SEO metrics. The tool has features for both individual webmasters and marketing teams.
Majestic offers link analysis reports to see the types of links pointing to a website. This helps identify link issues and understand what competitors are doing in SEO. The "Trust Flow" metric assists in finding high-quality links fast. This helps assess the overall backlink health of a website.
It also alerts users when websites gain or lose links. This can be used to track competitor activity and search engine link building changes. It can even show what type of links are from social media or press releases, which helps find opportunities other than traditional off-site methods.
Majestic's API integration enables access to their data. This is beneficial when using other tools like Moz Pro, Searchmetrics Analytics Suite, or BrightEdge analytics platforms. Marketers can view their results down to individual pages indexed by search engines.
BuzzSumo
BuzzSumo is an SEO tool used to gain insights into audiences. It optimizes content, social media, link building, and analysis performance. It also finds relevant keywords used by competitors and identifies content trends on SERPs.
It can check your brand or competitor's campaigns.
It monitors posts' success by measuring their shares on social media.
It finds trending topics that can be used as keywords for SEO.
It has a directory of influencers, which marketers can use them to increase their online visibility with related topics.
This way, users get the insights they need to stay ahead in SEO.
What are the benefits of using SEO tools?
Using SEO tools can help you better understand your website's performance and search engine ranking, as well as identify potential areas of improvement. It can also help you track your website's progress and find new opportunities for growth.
What are the best SEO tools to use?
There are many different SEO tools available, so it's important to find the one that best suits your needs. Our favorites are Google Search Console, Ahrefs and SurferSEO.