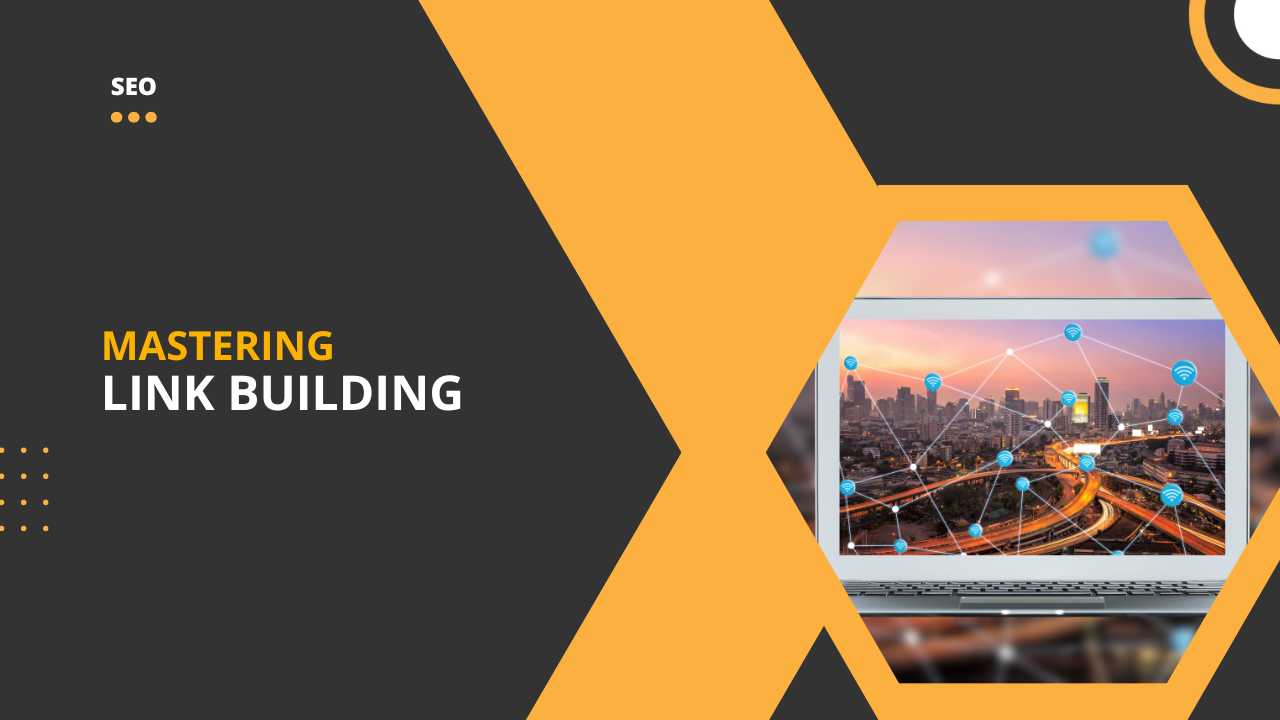 Struggling to be seen online? Trying to build links? Link building is a great way to boost visibility and website traffic. But it's not straightforward. You'll need to know the nuances, techniques and strategies.
This article will give you an insight into link building. Let's get started! Read on for more info!
Definition of Link Building
Link building is creating incoming links to webpages on other websites. This can help your website to have more visitors, since it increases the amount and quality of backlinks. In simpler terms, you will get more visitors from better sources if you have more and better links.
Link building consists of various strategies that help improve your link popularity and SEO industry position. Creating internal linking structures to improve navigation, submitting websites to directories or link exchanges, and providing content that encourages people to link your site are all part of the process. Basically, link building is when other sites make incoming links to your webpage, which can increase its visibility on search engines.
Nowadays, businesses need to stay up with trends in the SEO industry when doing link building. It is no longer enough to have lots of low-quality backlinks. SEO requires high-quality content, smart internal linking, and external link placement. All this should be part of an overall strategy that gets more referral traffic while following search engine standards.
Importance of Link Building for Search Engines
Link building is an important element of any successful SEO plan. It boosts a website's visibility, meaning it can rank higher in search engine results pages. This helps bring in organic traffic as well as referral traffic, both of which are key for gaining investments, brand recognition and repeat customers.
Search engines have various aspects to decide a web page's position. Link building is a major factor used by search engines like Google and Bing. The amount, quality, relevance and placement of a link all affect its impact on search engine rankings. Links from other websites raises your page's credibility according to search engine algorithms.
Link building can be achieved by making or getting backlinks from different sources. You can use your competitors' backlinks as an advantage by researching where they get theirs and creating similar or better sources for your website's backlinks. Generating content people want to share will encourage them to link your site on their own pages and social media platforms (like Twitter, Facebook, etc.) This increases the number of effective links you have with leading websites in your niche.
The positioning of these links is also significant, as it improves search engine rankings through link relevance. You should track the backlink checker tool for any new incoming links for existing paths. Links like these act similarly to organic and referring backlink seeds for SEO, if handled correctly.
Using these tactics together will ensure you take advantage of all possible sources of links, giving you a stronger online presence and more traffic to your website from improved visibility in search engine results pages. This drives more sales leads closer to success.
Understanding Link Building
The Importance of Backlinks
Link building is a must for digital marketers to make it online. Backlinks help website owners boost their search engine rankings, generate referral and organic traffic. To increase domain authority and link popularity, website owners need to build quality links from other trustworthy sources.
Rather than focusing on the quantity, webmasters should concentrate on quality. Do research on each link opportunity and take into account certain attributes (authority level, age of the link source, linking page relevance, etc.).
Moreover, have basic SEO knowledge. Learn about proper anchor text for creating links. Make sure all outbound links are indexed by search engines. Poorly built backlinks could lead to decreased organic search rankings – so invest time and effort when creating high-quality links from pertinent websites and blogs in your niche.
Types of Backlinks
Link building is a big part of SEO and digital marketing. Getting good backlinks is necessary for website visibility and to be seen online. Backlinks mean the number of websites pointing to yours.
When it comes to link-building, there are various types of backlinks to consider:
Internal links are on the same website, pointing to other pages. They help visitors navigate, and boost SEO.
External links are placed on other sites and point back to yours. They drive people to your page.
High-quality links from reliable sources, like blogs and news articles, have an even bigger impact. Search engines think your business is credible if it's mentioned by a trusted source.
Link building can be tricky. With some guidance, businesses can learn all types of backlinks and create strategies to improve their online presence with quality backlinks from trusted sources.
Quality vs Quantity of backlinks
When it comes to link building, some businesses think that more backlinks equal success. While many backlinks may help SEO, quality is as important as quantity. Too many low-quality links can harm search engine visibility. So, it's best to stay away from them.
High-quality links should be the goal. Get a few from sites that are authoritative and relevant to your content. Another way to get quality links is by creating great content that others want to share and link back to you.
Good content will attract quality backlinks in time. Don't try quick fixes. Not all links carry the same weight. Know what's good and bad before investing time and energy. Quality is better than quantity for link building and SEO success.
Anchor text
Anchor text is essential for link building. The words used to link from one page to another are important for keyword research, SEO, and the website's reputation.
Choose words relevant to the topic of the link. This will help visitors understand what they'll find. Using related keywords in anchor text can improve the website's rankings.
Diversify the anchor text. Don't use the same word or phrase too much. This lets search engines recognize the website as reliable on different topics. Link building is crucial for SEO success. So, picking the right anchor text is key for user-friendliness and SEO power.
Link Building Strategies
Guest Blogging
Guest blogging is a great way to get links to your website. It can help boost domain authority and referral traffic. It also helps with content marketing efforts.
To make it work, you need an effective outreach strategy. Research blogs and topics that could benefit from your expertise. Craft a pitch to get the article approved. Your article should be unique and valuable.
Once published, market your work! This will get more referrals and traffic. Use social media and industry targeting as part of a wider link building campaign. Doing this regularly can help build an effective link profile while boosting local SEO rankings too!
Broken Link Building
Broken link building, also known as link reclamation, is a way of getting links from sites with content related to your own, but with pages or links that don't work anymore. It's about more than just finding and replacing broken links – it's assessing the value of the resource page and using that to get even better backlinks from authoritative websites. This technique can bring website traffic and increase your domain authority with search engines, as well as make a good impression on webmasters.
To start, use tools such as Ahrefs or Majestic to identify broken links on various pages. Then, assess the quality of these resources – look at the domain authority, how relevant they are to your content topic, and the outreach opportunities that could come with them.
Contact the webmaster responsible for the page with the broken links and tell them you have an updated version of the resource they may be interested in linking to. You can also suggest other sources if your website doesn't have what they need.
Broken link building takes time. But when done right, it's a great way to get high-value backlinks from authoritative websites. Keep up with new strategies and best practices to keep improving your success rate!
The Skyscraper Technique
Skyscraper technique is a link building strategy that helps marketers generate organic, high-quality links. It involves researching other well-known websites in your industry that have published great content. Then, making something even better! This content can be used as part of a link building campaign to gain natural and valuable links from other sites.
To use the skyscraper technique, marketers must first find link worthy content from their competition. This means looking for topics and content that are attractive to the target audience, offer valuable information or insights, are well-written and have plenty of engagement (comments or shares).
After identifying the ideal topics, the next step is to make content that is even better than what is already out there on the topic. Marketers should look to improve on the existing work by providing more in-depth information that cannot be found elsewhere on the web.
The final step is to promote this new content through a link building campaign. This includes:
Sending direct emails to websites that have linked back to similar pieces of work in the past
Promotional marketing activities like press releases and influencer outreach campaigns
For a link building campaign to be successful, it is essential that marketers focus on creating high quality content that other prominent websites will link back to.
Infographics
Infographics can be used to build links. Link building is when you have links from other websites pointing to your website. Infographics have advantages compared to blog posts and web pages. They are visually appealing, making people more likely to click and share. This brings extra traffic to your website and encourages external websites to link back.
To build links with infographics, create attractive visuals with value and captions. Include data and statistics to inform viewers. Add information about the linked page and a hyperlink so people can access text-based material on your site.
Testimonials and Reviews
Testimonials and reviews are becoming more and more effective for link building. People are now more aware of online services and products, so when a potential customer sees another person's good review, it helps build trust and credibility.
Link building with testimonials and reviews can be used in many creative ways. These can be shared in blog and forum comments, on social media sites like Facebook and Twitter, or even embedded into other website materials such as white papers or press releases.
When done right, link building using testimonials and reviews can help to boost page rankings in search engine results pages (SERPs) and grow organic traffic. Digital word-of-mouth marketing tactics can be a great way to generate rewards from link building.
How to Reach Out for Link Building
Link building is a must for SEO. It's a great way to drive more visitors and leads to your website. But, how do you reach out for link building? To find the right contact and write great outreach emails is essential for securing quality links from websites and directories.
When looking for link opportunity sources, review the quality of their site, audience size and other factors related to your content. It's important to link up with prospects that are a good fit for both parties. This can take time, but it'll be worth it when you see results from increased engagement with your content.
Once you've identified link building prospects that could give you better visibility and exposure, craft outreach emails with personalized messages. Use an email sequence of 1-3 messages. If they don't reply in a week or two, send a follow-up email as a reminder.
There are online tools specifically designed for link building outreach campaigns such as BidStingy. These tools help manage contacts, track performance and save time by automating processes.
Link building is great for SEO rankings. Make sure you reach out in an effective way. Use this guide on how to reach out for link building, find the right contact, craft great outreach emails, add personalization, remember follow-ups and use available online tools. Then success will be just around the corner!
Best Practices for Link Building
Link building is key for boosting online visibility and search engine ranking. To create a strong backlink profile, use best practices and pick backlinks from relevant, reputable sites in your industry. Quality is more important than quantity when it comes to a better online presence.
Link building involves various tactics and strategies. Select methods that fit your goals, considering time and resources. Common techniques include:
Engaging with an influencer
Creating content like blog posts or webinars
Joining trade associations or directories
Reaching out through emails or social media
Researching competitors' links
When building quality links, avoid spammy techniques like automated link exchanges with low-quality sites or buying links from untrustworthy sources. Linking to authoritative websites will improve visibility; partner with specific publications for maximum potential.
Integrating link building into your digital marketing plan correctly can help reach goals faster!
Conclusion
Link building is incredibly important for improving a website's visibility and relevance. This guide has outlined the basics of successful link building. It is important to recognize the value of high-quality links and also research available link building opportunities. Furthermore, it is vital to understand the complexities of a link profile and enlist a trusted agency.
Additionally, there are many resources to help those wanting to master link building. Guides like The Wall Street Journal's Complete Guide to Link Building can be very helpful. Also, websites such as Moz provide webinars and case studies. It is essential to stay informed of algorithm changes and not compromise quality. Doing this will ensure that digital marketing campaigns are successful, leading to increased visibility and ROI. The right approach to link building can result in positive outcomes.
What is link building?
Link building is the process of creating external links from other websites to your website in order to improve the visibility and authority of your website.
Why is link building important?
Link building is important because it helps to increase your website's visibility and authority in search engine results, which can lead to more traffic and higher conversion rates. It also helps to build relationships with other websites and improve your online reputation.
How do you do link building?
Link building can be done in many ways, such as guest blogging, directory submissions, content marketing, social media marketing, and more. Each method has its own advantages and disadvantages. It is important to research and understand the different methods before beginning any link building campaign.