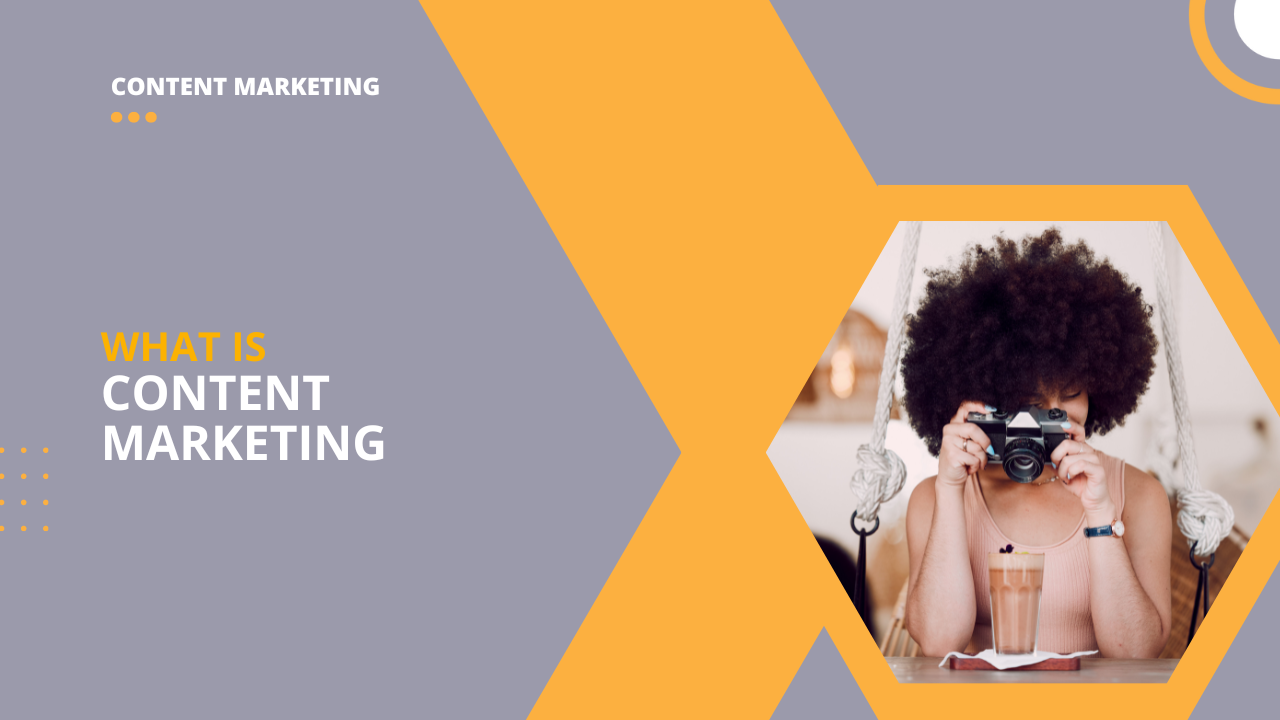 What is Content Marketing
In our world, being visible online is getting harder for us as business owners. So, are you one of us, who is trying to increase your online presence and visibility? If you can't give all the content that your customers need and can't be an authority in your niche, upps I'm sorry, but it is easy to lose the game. Here I'm happy to explain to you what content marketing is and how it can work for your business!!!
Introduction
Content marketing is an approach used by organizations to create and distribute information online or through digital marketing channels in order to engage potential customers and build relationships. It is a strategic type of digital marketing that focuses on producing and sharing content – such as blog posts, social media updates, visuals, videos and more – that is designed to educate, entertain, inspire and support their audiences.
Content marketing is often seen as a gateway to build brand awareness, drive traffic to websites and bring attention to products or services.
At its core, content marketing seeks to provide useful content that aligns with the goals of an organization while also helping its target audiences learn more about the organization itself. It helps marketers reach their goals by leveraging various types of content creation efforts such as industry news, research studies, surveys data, customer stories and much more. With well-crafted content in place, marketers can gain insights into customer preferences which inform their future marketing efforts.
Additionally, content can also be adapted for use in other forms of digital advertising campaigns such as email newsletters or social media campaigns for further engagement with potential customers. By understanding how content helps customers understand a product or service better before purchasing it can become a powerful tool for organizations looking to boost their sales revenue over time.
Content Marketing provides an opportunity to generate valuable insights into the preferences of target audiences while also providing useful tips and tricks that show the expertise of the person behind it. When done correctly it can be an incredibly effective tool in driving business growth while engaging with potential customers at the same time. Doing so requires having access to industry trends and being on top of news that relevant industries are discussing; having regular access to timely information will help ensure marketers are staying informed about what's happening in the world at large so they can craft effective strategies that'll convert leads into loyal followers of their brand through compelling Content Marketing insights shared online or through digital channels consistently over time.
What is Content Marketing
Content Marketing is an approach that businesses use to create relevant content for their target audiences. This type of marketing strategy involves creating, publishing and distributing content – such as articles, blogs, images and videos – in order to grab the attention of customers. With Content Marketing, you'll focus on creating useful, informative content surrounding a particular topic that provides value for the reader; you're not directly promoting your products or services.
Content marketing often yields better results than traditional marketing methods because it allows brands to create relationships with their consumers. By providing in-depth information about topics your customers are interested in, they are more likely to view your brand favorably and trust your advice on future purchases or issues they may have.
Types of Content Marketing include:
Online content marketing (blogs and social media)
Press releases
Influencer marketing (working with bloggers/social media influencers to promote your products/services)
There are also many other kinds of content that can help you reach your target audience. For example:
Promotional videos
How-to guides
Case studies
Infographics
These can be used in Content Marketing strategy to increase online visibility and keep current customers engaged while also attracting new ones. Additionally, utilizing blogs or newsletters can help boost customer retention by regularly providing valuable information. All this is done through genuine interest from the customer's perspective as opposed to pushing sales messages and offers which will alienate them from the brand rapidly.
Overall, Content Marketing is endlessly versatile and beneficial for any business which seeks to build quality relationships with its customers through engaging messages that focus on helping them instead of selling them on something new or different every day.
Why is Content Marketing Important
Content marketing is the practice of creating and distributing useful, relevant, and consistent content to attract and retain a clearly-defined audience for the purpose of driving profitable customer action. While content marketing can take many forms, its primary focus is always on achieving and maintaining meaningful engagement with potential customers.
Content marketing works incredibly well because it commands attention while also providing consumers with valued information. By engaging with customers through content, brands can begin to establish relationships that grow in trust, leading to increased brand recognition and credibility. This recognition creates a halo effect in which brands are seen as highly competent experts in their respective field or industry.
When executed correctly, content marketing can have far-reaching benefits for a business's bottom line. One key benefit of content marketing is the potential it has for improving search engine optimization (SEO). When quality content is made available on a regular basis, it creates an archive of information for customers and search engines alike – allowing broader audiences to find specific topics easily. Additionally, when interested customers find existing articles or materials through Google or other search engines, they may also be automatically recommended future articles related to what they already searched for – encouraging further lead generation opportunities down the line.
Finally, while traditional sales strategies tend to be expensive and time-consuming (often taking months if not years before results are seen), content marketing offers one of the most cost-effective routes to success – especially over the long run. Quality content helps spread credibility as well as broaden brand awareness just by existing – setting up businesses for organic growth ahead even after initial engagement slows down. Content marketing should therefore form an integral part of any businesses' lead generation strategy moving forward as its ability to effectively generate new leads without breaking budgets or wasting resources cannot be understated.
Types of Content Marketing
Content marketing is an effective way to engage customers and get your message across. It involves creating content that is tailored to the needs of your target audience and has the potential to be shared organically. Content can come in many forms, including blog posts, videos, webpages, emails, social media posts, and even influencer marketing.
The most common types of content marketing are:
Social media marketing
Video marketing
Email marketing
Blog post writing
Web page creation
Influencer content
Social media is a great way to connect with your customers in an interactive manner and build relationships with them. Video advertising can be used to introduce users to what you have to offer and create a compelling story about why they should choose your brand over competitors. Email campaigns can reach out directly with offers or announcements that are sure to capture the attention of subscribers. Blog posts are excellent for expanding on topics of interest for further engagement from readers. Defining web pages that feature related products or services helps maximize visibility within search engine results – driving organic traffic without additional cost or effort. Finally, influencers are an effective way to extend your reach even further by working with experts who already have a large following on respective platforms like Instagram or YouTube and they typically require less investment compared to other methods (e.g., traditional paid advertisement).
No matter which type of content you use for your content marketing strategy, always remember that creating engaging content consistently is key!
Content Marketing Strategy
Content marketing is an integral part of any successful digital marketing campaign, but having a solid content marketing strategy in place can be the difference between success and failure. Content marketing is the process of creating and curating content with the goal of engaging customers, building relationships, and generating leads. The content produced could be in various forms such as blog posts, white papers, video content, podcasts, or email newsletters.
When it comes to developing a content marketing strategy that works for your business, there are several essential steps you can take to ensure success. First, decide what topics you want to focus on and what content type will be most suitable for teaching your audience more about those topics. You may wish to create a content marketing blog that covers different topics related to your business or create an entire series focusing on one single area of expertise. Alternatively, you can join forces with other experts in your industry by guest posting on their blogs or appearing as a guest speaker at their events or webinars.
You'll also want to consider how you will use social media platforms effectively in order to promote and share your content with the right audience. Additionally, optimizing for search engines through tactics such as keyword research and link building is also important when working on any successful content marketing strategy. Reaching out to influencers within the same industry will help give momentum to your efforts when it comes time for promotion. With so much potential out there for content marketers these days it's important to take the time needed to develop your own unique strategy that fits with both you and your business's goals.
By visiting some of the best content marketing blogs available today such as Content Marketing Institute or Thomas Digital Marketing Services for guidance, advice and tips from experienced professionals you are sure make all the difference!
How to Implement a Content Marketing Strategy
Creating, executing, and measuring a successful content marketing strategy is essential for businesses who want to stay competitive. With the ever-changing landscape of digital marketing, it is vital for businesses to have an effective content marketing plan in place that caters to their target audience.
When it comes to implementing a content marketing strategy there are several steps you need to take to ensure success:
Assess your business by defining your goals and objectives for content marketing. To do this effectively you need to have an understanding of who your target audience is and create buyer personas so you can tailor the message of your content specifically for them. Knowing who you're targeting will help create high-quality content that resonates with your readers.
Create a content calendar with strategic pieces of relevant information tied to timely topics or events which provide educational value as well as entertainment when possible. Remember that timely topics and trends generate more engagement than relying solely on evergreen topics so if possible include both on your calendar.
Use measuring and analyzing analytics tools such as Google Analytics to track how your strategy is performing and how readers are responding. Keep in mind that changes may need to be made in order optimize the effectiveness of the results based on what the analytics show over time.
With these key steps in mind, you can confidently create a successful content marketing strategy tailored specifically for your unique target audience that produces positive results over time!
The Content Marketing Institute (CMI)
Content marketing is a type of digital marketing that involves creating and sharing content – such as videos, articles, infographics, podcasts, and social posts – to reach potential customers.
Content Marketing Institute (CMI) is the leading organization dedicated to sharing knowledge related to content marketing. Founded in 2001 by veteran marketer Joe Pulizzi, CMI provides an array of valuable resources for those interested in learning more about industry trends and the latest content marketing strategies and tactics.
The CMI website offers many great resources for content marketers looking to stay up-to-date on the latest trends and develop their skills. This includes training programs focused on building a successful content marketing strategy, as well as keeping track of digital marketing topics that are fresh for each semester's workshops. It also provides members access to exclusive research reports analyzing content strategy trends from across the world.
Whether you're new to content marketing or already have a few years of experience under your belt, CMI can help you stay ahead of the curve with its wealth of valuable content related to both organic & paid strategies. Through their website, users can find tutorials on building a continuous audience journey funnel; insights into developing effective user personas; industry analysis trend updates; as well as regular webinars featuring experts in all aspects of content marketing essentials – including SEO best practices –all sure to help even experienced marketers add value when creating new campaigns or building out existing ones.
The 7 Top Content Marketing Blogs For 2022
Content marketing is an effective way to get your message out to your target audience. It's a strategy that uses content such as blogs, videos, and other written materials as a way to attract new customers and build loyalty with existing ones. With so many different outlets available for content marketing, it can be hard to decide which sources are best for your business. That's why it's important to take the time to research the top content marketing blogs for 2022 in order to stay up-to-date with the latest trends and create an effective content marketing plan.
These are just some of the top blogs businesses should be following in 2021-2022 in order model successful content marketing plans which will help bring more attention and visibility towards their products or services offered over both organic search traffic sources but also organic social media networks like Twitter, Facebook & Instagram etc…
The Social Media Examiner provides an easy-to-follow guide on their blog, offering helpful tips and advice on how you can use online marketing tools in order to improve your business's visibility online. They also offer expert tips and advice on social media platforms such as Twitter, Facebook, Pinterest and Instagram.
HubSpot Marketing Blog offers practical strategies for creating compelling content that aligns with your company's mission and objectives. They offer tutorials from SEO best practices all the way down through optimizing sponsored postings across social channels.
Kissmetrics provides insights into data mining techniques, analytics tracking solutions, email campaigns and much more. Their blog has been dedicated to helping marketers understand what works best when creating successful campaigns since 2009.
Content Marketing Institute is dedicated to helping marketers create good quality content that will ultimately lead them down a path of success by building engaging relationships with their customers through higher engagement rates across different channels of communication including email newsletters, websites and blogs.
Copyblogger Media focuses on specific topics ranging from copywriting strategies to SEO tips that help readers create better content marketing pieces that are optimized for search engines but also engaging enough so they keep people coming back time and time again.
WordStream's blog offers everything from PPC 101 basics all the way up through advanced performance optimization strategies used by top industry professionals on a regular basis when managing PPC campaigns for clients or their own businesses.
Google Ads Editor Blog helps readers optimize their AdWords campaigns by offering guidance on how they can improve CTR (click through rate) or increase conversions from their ads by understanding where users are dropping off within the funnel of desired actions or purchases made online.
Conclusion
Content marketing is an important part of a business's overall marketing strategy. It can help build trust and reach potential customers, as well as create a better understanding of the company and its mission. Content marketing has been used for many years and is still one of the most effective ways to market products and services. By using strong content that is tailored to the target audience, businesses can increase their reach and effectiveness in the online world.
Content marketing helps businesses achieve their goals by providing valuable resources, including how-tos, video content, industry trends, writing tips, technical tips, free resources, and thought leadership. These resources will help business leaders gain knowledge on various topics relevant to their industry while gaining an online following among their target audience. Additionally, content marketing aids in SEO (search engine optimization) efforts by making websites more discoverable with blog posts and web pages that are optimized for search engine results pages (SERPs).
Having a good content strategy in place also helps with online sales initiatives. Content components like Google Ads combined with detailed web design elements can help increase the amount of website traffic coming from organic search queries which in turn drives up your sales metrics. Content marketers may also take advantage of social media channels like Instagram or Twitter to foster relationships with customers and engage potential leads from a digital perspective – ultimately leading them back to your website!
Overall there are so many companies succeeding in content marketing today as it continues to become one of the essential components necessary for establishing personal brands and driving greater success within all types of industries. No matter what vertical you're in it's definitely worth investing in content as it can be incredibly lucrative for any business model if done right! Skeptics aside one should definitely consider testing different approaches like partnering up with Rock Content or registering for online education provided by Marketing World or Search Engine Journal/Search Engine Land when launching existing campaigns – so they can achieve maximum results from their efforts!
What is the Content Marketing Institute (CMI)?
The Content Marketing Institute (CMI) is a company that was established in 2001 and offers helpful resources, educational opportunities, research studies, and market analysis for content marketing. To keep content marketers informed and assist them in creating effective content marketing strategies, CMI provides insights, tutorials, and webinars.