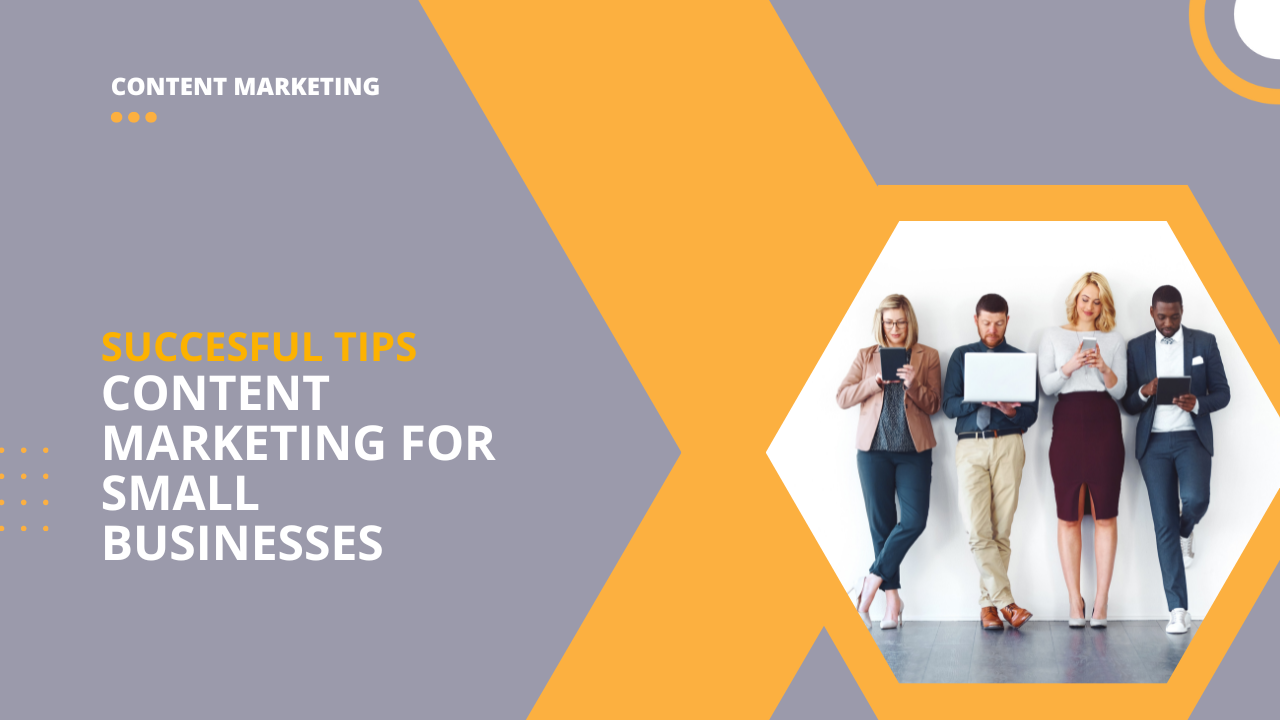 Content Marketing for Small Businesses – 5 Successful Tips
Struggling to generate leads as a small business owner? Content marketing can save you costs while helping you reach your goals!
Why Does a Small Business Should Have a Content Marketing Strategy
Content marketing has a huge impact on today's digital world. Small businesses must not ignore it. Content marketing gives small business owners a chance to build a brand name without spending too much. It also helps them to reach more people and draw in more customers with innovative and focused plans.
To have a successful content marketing plan for a small business needs thorough planning and commitment. You need to decide a budget, create a publishing schedule, think about topics that your target audience will like. Plus, use different content formats such as articles, infographics, videos, pictures to make sure that you give the correct message via multiple channels.
At the heart of content marketing is developing top-notch, useful content that people can comprehend or that give solutions related to their needs or questions. Content should be intriguing but also educational. This is necessary for connecting to prospects and keeping a good standing with present ones.
Lastly, social media is key in developing successful content plans for small businesses. It helps them to relate with customers on an emotional level by giving relevant information about their brand or goods via posts and other imaginative ways of storytelling. By using various social media networks, reach and engagement levels can increase a lot if done right.
Tips For a Successful Content Marketing Strategy
1 – Start a Blog and Create High-Quality Content for Your Target Audience
Content marketing for small business is an effective and budget-friendly way to reach new customers. Quality content that speaks to a target audience helps small businesses become visible and builds trust. Starting a blog is a great way to start!
To make quality content, businesses should write meaningful blog posts that are useful, interesting, and relevant to their industry or target audience. SEO keywords should be used and optimized for search engine results. Poorly written or duplicate content will not be successful.
Before writing posts, research the topic. Understanding it deeply will make it easier to create effective content. Researching relevant topics will keep blogs fresh and up-to-date.
Long-form posts may work better than short ones. But only if it has meaningful information that keeps readers interested!
2 – Have an E-mail List and Don't Ignore the Power of E-mail Marketing
Setting up an e-mail list is key for content marketing success. It helps to connect with audiences, boost consumer relationships and drive traffic back to your website. When done right, email marketing is a direct way to engage customers with your products or services.
Focus on building trust with your subscribers by providing content they're interested in. Personalize emails, create automated messages, provide useful content and special offers. Segmenting your email list into different categories helps deliver targeted messages.
Pay close attention when designing the template of an email campaign. Keep it short, concise and with plenty of white space. Test out its appearance on different devices to ensure accuracy.
Drive interest towards achieving marketing goals like increasing sign ups and website visits. Nurture relationships through effective campaigns to help small businesses achieve their objectives and increase sales revenue!
3 – Be Seen on Social Media Channels
Content marketing is about making valuable, relevant content and giving it to a target audience who could benefit from your products or services.
Small businesses wanting to promote themselves through content marketing can do so on social media platforms. An active presence on social media will get you more potential customers, build trust and loyalty and make people aware of your brand.
For successful content marketing, make sure your content is high quality and engaging. Share it across multiple platforms like Instagram and Facebook. Post about new products, features and customer testimonials. Videos and photos from events, and customer service stories, can help create connections.
Posting consistently and using relevant hashtags will help people find your content. Paid ads on social media channels can drive customers to your website, leading to sales. Track the performance of these ads and make necessary changes.
By staying active on social media, using paid ads, and sharing relevant posts, you will be noticed by potential customers, raise brand awareness, and have better chances of driving sales.
4 – Create Content in Different Formats
Content marketing for small businesses is key. To reach larger audiences and engage your posts, create different content formats. Start with textual posts, articles, and social media posts. But, don't keep repeating the same type of content. Try different mediums such as videos, podcasts, audio clips, and visuals.
Also, host webinars related to small business management and growth. Post content that's valuable, unique and relevant. And, share user-generated material from those who have already used your services or products.
5 – Use Stories in Your Content
Content marketing is an essential part of small business success. It's a form of marketing that produces and shares valuable, relevant, and consistent content to pull in and maintain possible customers. Content can come in many forms, e.g. blog posts, videos, infographics, and webinars.
One of the most useful content marketing techniques for small businesses is to use stories in their content strategy. Telling stories about your brand's experience can help make a connection with potential customers and show them you are an industry leader or expert. Research from NYU Stern shows that stories are remembered 22 times more than facts alone!
Content marketing with stories can be shared across channels like social media or email campaigns. This helps get your message out to a wide range of audiences quickly while also engaging them.
To take advantage of this storytelling, try offering discounts or bonuses to users who share stories about their experiences or use cases with your product/service. Use these stories as customer testimonials on your website or spread them through other channels for more reach and conversions. Remember, when done right, stories in your content strategy will show you are an industry thought leader and engage potential customers in unforgettable ways.
Examples of Content Marketing Ideas for Small Businesses
Content marketing is a great way for small businesses to promote their products and services. Strategies may include creating educational blogs, videos, visuals, participating in forums, running contests, and paid advertising. The goal is to engage audiences with helpful information and make them take action.
Small businesses don't always have much money for digital marketing, so get creative! Here are some content marketing ideas:
Create a blog about your business. Educate readers or show off your offerings.
Use customer reviews and social media posts to build relationships and show trustworthiness.
Get influencers to promote messages about your value.
Invest in paid media platforms like Facebook Ads Manager and Google Adwords to reach potential customers.
Try traditional advertising too. Print ads, banners, TV commercials can all help, but they're often more expensive. Allocate part of the budget, measure results, and try new strategies.
Conclusion
Creating a successful content marketing plan for small businesses is tough. As a small business owner, you must consider many things to be successful in this competitive digital landscape. Gaining leads, organic traffic, and increasing search engine rankings all start with understanding your customers, doing market research, and developing strategies that reach new customers. Whether by using keyword research or creating SEO optimized content, the goal is always to make content that resonates with the right people.
When forming an effective content marketing strategy for small businesses, you must have a plan and clear objectives. This could include:
Making monthly content calendars
Utilizing Google Analytics and Google Webmaster tools for SEO
Investing in tools like Ahrefs or SEMrush for more insights
When looking at production, make sure the content is interesting and people will want to share it on social media. Include blogs and videos in campaigns.
When starting out, understand what works and what doesn't. Experiment until you find a plan that helps your business grow organically. With plans in place and regularly updated SEO measures, your small business can be successful with strategic Content Marketing!
How can content marketing help small businesses?
Content marketing can help small businesses by providing a cost-effective way to reach a wider audience and build brand awareness. It can also help to increase website traffic, generate leads, and improve search engine rankings. By creating valuable content that appeals to the target audience, small businesses can establish themselves as thought leaders in their industry and convert more prospects into customers.
What are the 5 most successful tips for content marketing for small businesses?
The 5 most successful tips for content marketing for small businesses are: (1) creating quality content that is relevant to your target audience; (2) using a variety of content formats to reach different audiences; (3) optimizing content for search engines; (4) promoting content through social media; and (5) regularly analyzing and refining content to ensure it is achieving the desired results.